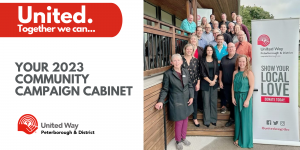 United Way Peterborough & District welcomed six new members to its 2023 Community Campaign Cabinet on Monday, ahead of the start of its annual fall appeal for campaign donation pledges.  The cabinet team is comprised of people from various community sectors who use their connections to raise additional funds for the United Way and its 20 social agencies. This year saw the return of some campaigns that haven't been represented for years, explained Jim Hendry, Campaign Cabinet Chair.
"We have several people coming back. The City of Peterborough has been represented again, we have somebody back from the public school board and we have somebody back from the Peterborough Police Service," he said. "Those historically have been big active campaigns, but we didn't have campaign cabinet members for them last year, or in some cases, a couple of years."


The COVID-19 pandemic forced many people to step down on focus on their work outside the cabinet team,

"Or in the case of (Peterborough Police), deputy chief (Tim Farquharson) had to step down, as he left to be the chief of police at Port Hope Police Service," he said. "So, were very happy to have John Townsend bring PPS back into the fold."

Another notable addition is Dr. Stephan Ragaz who will be focused on the medical community campaign. "We haven't had a doctor on for a while somebody and he's very interested in going out into the medical community and selling the campaign," Hendry said. "We haven't had someone from inside that community, who's only involved in cabinet." While the Kawartha Pine Ridge District School Board has always had a campaign, the public school board hasn't had any representation on the cabinet for a number of years."Greg Kidd from KPRDSB will be heading that campaign," he said.
Other additions to the campaign are Jen McFarlane from the City of Peterborough, Shirley Turner as a community ambassador and Lawrence Lam from Trent University. The United Way's campaign cabinet team has now grown to 25 members. Hendry is expecting to have a few more join by the end of year.
Chaired by Jim Hendry, a retired Peterborough Examiner editor, the group includes Dr. Marcus Harvey, cabinet past-chair; former MP Maryam Monsef, Women United Chair;  Darcy Bonner, Community Ambassador, Brian Desbiens, Community Ambassador, Galen Eagle, PVNCCDSB, Coby Fewings, Scotiabank, Dr. Bruce Gibson, Community Ambassador, Marg Glenn, Community Ambassador, Tracy Keough, RBC, Greg Kidd, KPRDSB, Lawrence Lam, Trent University, Richard Lambert, BMO, Scott Mancini, Ashburnham Realty, Jen McFarlane, City of Peterborough, Amanda Pinder, RBC, Dr. Stephan Ragaz, Community Ambassador, Paul Rellinger, PTBO Performs Event Chair,  Heather Shaw, GM Financial, Sebastien Tinor-Roy, TD Bank, John Townsend, Peterborough Police Service, Shirley Turner, Community Ambassador, Jim Russell, UWP, CEO, Anne Ondercin, UWP and Sara Mountenay, UWP.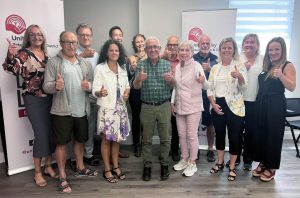 Written by: Alex Schummer, Peterborough Examiner
Photo Credit: David Tuan Bui, Editor/Writer PTBOCanada