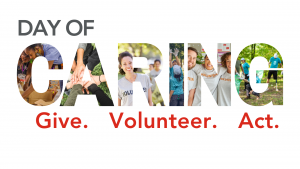 We are excited to announce the upcoming "Day of Caring" event for the United Way Peterborough & District! 🙌🏼
Join us on Friday, June 16th 2023, for a day filled with volunteer work and community building. This event is a wonderful opportunity to give back to our community and make a real difference in the lives of those around us.
Whether you're an individual or a group, we welcome all volunteers who are passionate about making a positive impact. Together, we can create a better and stronger Peterborough.
Don't miss out on this amazing opportunity to connect with your community and make a meaningful contribution.
The day will kick off at 9:00 am at The Silver Bean Cafe for refreshments and a welcome before heading to their assigned project.  Projects should take approximately 4 hours. To sign up a team of volunteers or, for more information, please contact:
We are looking for our 2023 Partners in Caring! When your company chooses to serve as a sponsor, your generous donation will be used to promote our 2023 Day of Caring as well as to pay for supplies to complete projects submitted by local not for profit agencies, and, to provide snacks and t-shirts for our volunteers. This is an excellent opportunity to showcase your business as one of the many who are helping to improve the quality of life for the City and County of Peterborough residents. Learn more about becoming a Partner in Caring  HERE.
#unitedwaypeterborough #dayofcaring #volunteer #giveback #communitybuilding