Did you know that locally 2,895 children and youth age 17 and younger live in poverty?
Our economically vulnerable must make impossible choices every day…choosing between paying rent, paying bills or buying groceries.  September brings an additional financial stress for these families, back to school shopping for all of the basic tools that will contribute to their child's success.
1 in every 10 households in the City and County of Peterborough have an annual income that falls under 20k. For these families and many others, finding the extra resources to provide these supplies is almost impossible.  Our vision is that everyone in every community has the opportunity to reach their full potential and our Backpacks for Success initiative serves to ensure that all students have the educational tools they need.
As we begin to focus on recovery and rebuilding after the global pandemic, it has become increasingly difficult to ignore the disproportionate affect that our economically vulnerable populations have experienced.
Last year, requests for inclusion in our Backpacks for Success initiative which provides the basic tools for educational success to those who simply cannot afford them increased by more than 90%.
Thanks to your generous gifts, ALL requests from our school communities of KPR and PVNCC District School Boards were provided with 690 backpacks being distributed to local students and new Canadians!  Early indications are that the need will be just as great in the 2023-24 school year.
Please help us to, once again, foster a sense of inclusivity for students who are economically vulnerable through your support of Backpacks for Success.
To help achieve the level of community investment required, we have added two new sponsorship options for those who would like to have a broader impact this fall. With a gift of $500 you can choose donate all of the artistic tools typically provided in a backpack, crayons, markers, paper and pencil crayons for 75 local students OR the instrumental Science, Technology, Engineering, and Math (STEM) tools for 30 local students.

Since the Backpacks for Success program launched locally in 2003, United Way Peterborough & District has provided more than 12,390 backpacks containing grade-appropriate school supplies to local youth in Kindergarten through Grade 12 who are financially vulnerable.
Each year, this program sees community donors and volunteers come together to make a tangible difference by ensuring that local students are provided with the tools they need to be successful.
This year, we have added sponsorship levels for individuals, groups or companies who want to have a greater impact this fall.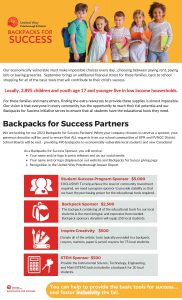 Brant Basics partners with United Way to deliver "Backpacks for Success" program 
In 2021, Brant Basics, a longtime supporter of United Way Peterborough & District through their annual workplace campaign reached out to offer to partner in a more significant way  through the creation of new initiative to keep support ongoing.  Says Sue Sharp, co-owner of Brant Basics

"We truly appreciate the difference United Way makes in our community! Funds that are raised are distributed to a number of reputable charitable organizations fulfilling a wide range of community needs."

As part of this partnership, Brant Basics created  a new initiative to support the Backpacks for Success program that sees donations being accepted in-store at Brant Basics, located at 296 George St N, Peterborough. Customers of Brant Basics who order for delivery are able to donate by adding donation code 80003-00 to their online order.