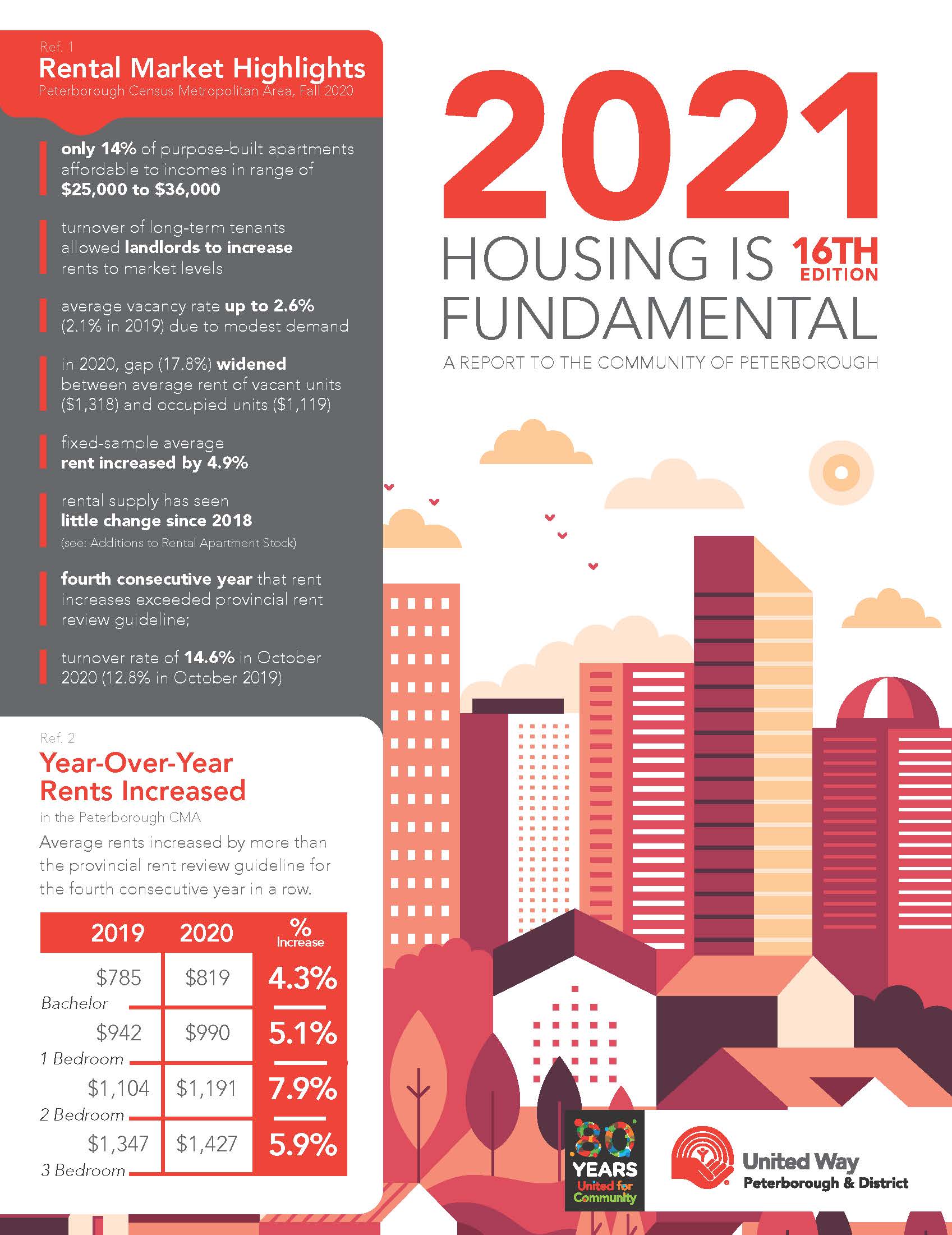 PETERBOROUGH, ON (October 6, 2021) – Today, from the Boardroom of the United Way of Peterborough's offices on Stewart Street, the 16th annual "Housing is Fundamental" report was released.
This report to the community focuses on the reality of housing affordability and the relationship over time to household income. In his welcoming remarks CEO Jim Russell stated, "Many of us with privilege take for granted safe affordable places to call home. Until everyone in our community enjoys the dignity that comes from having safe affordable housing, our community will not be whole."
Joining Russell was joined by report author and housing advocate Paul Armstrong. An impassioned Armstrong noted, "Throughout Canada we are losing affordable housing much faster than we are replacing it. In the context of Peterborough, rental markets continue to outpace both inflation and wage increases." As an example, he cited the 1-year increase in average rent for a 2 bedroom apartment had gone up 7.9% and stood at $1191.00.
Further Armstrong outlined the connection between poverty and poor health outcomes, "We must see housing in the perspective of health. Housing costs are significant contributors to poverty and the link between poverty and health has been irrefutably established."
Some noted findings from the report are the following:
Year over Year Rent Increases         2019 2020 % Increase
Bachelor $785 $819                                            4.3%
1 Bedroom $942 $990                                        5.1%
2 Bedroom $1104 $1191                                     7.9%
3 Bedroom $1347 $1427                                    5.9%
The full report can be accessed on United Way Peterborough & District's website at