United Way Peterborough & District Promotes Upcoming Concert Series This Weekend
Click here to purchase your tickets! Please use code UnitedWayPtbo for a portion of the proceeds to be donated back to the United Way Peterborough & District and the community.
Peterborough, ON September 15, 2020 – United Way Peterborough & District is so grateful to announce the partnership with the Peterborough Memorial Centre as part of the City of Peterborough's United Way Giving Campaign. The PMC is hosting a drive-in concert series this upcoming Friday, September 18th and Saturday, September 19th. The Sheepdogs will be performing on Friday night, with special guests The Jim Cuddy Band, while Tim Hicks and Jason McCoy will be performing the Saturday night show. Gates will open at 5pm on both nights, with the main shows starting at 7pm. Tickets are on sale now starting at $65 per person (no minimum amount of people per car), and with every ticket purchased using the code UnitedWayPtbo, a portion of the proceeds are donated back to the United Way to support the community. Visit our social media channels or click here to purchase tickets.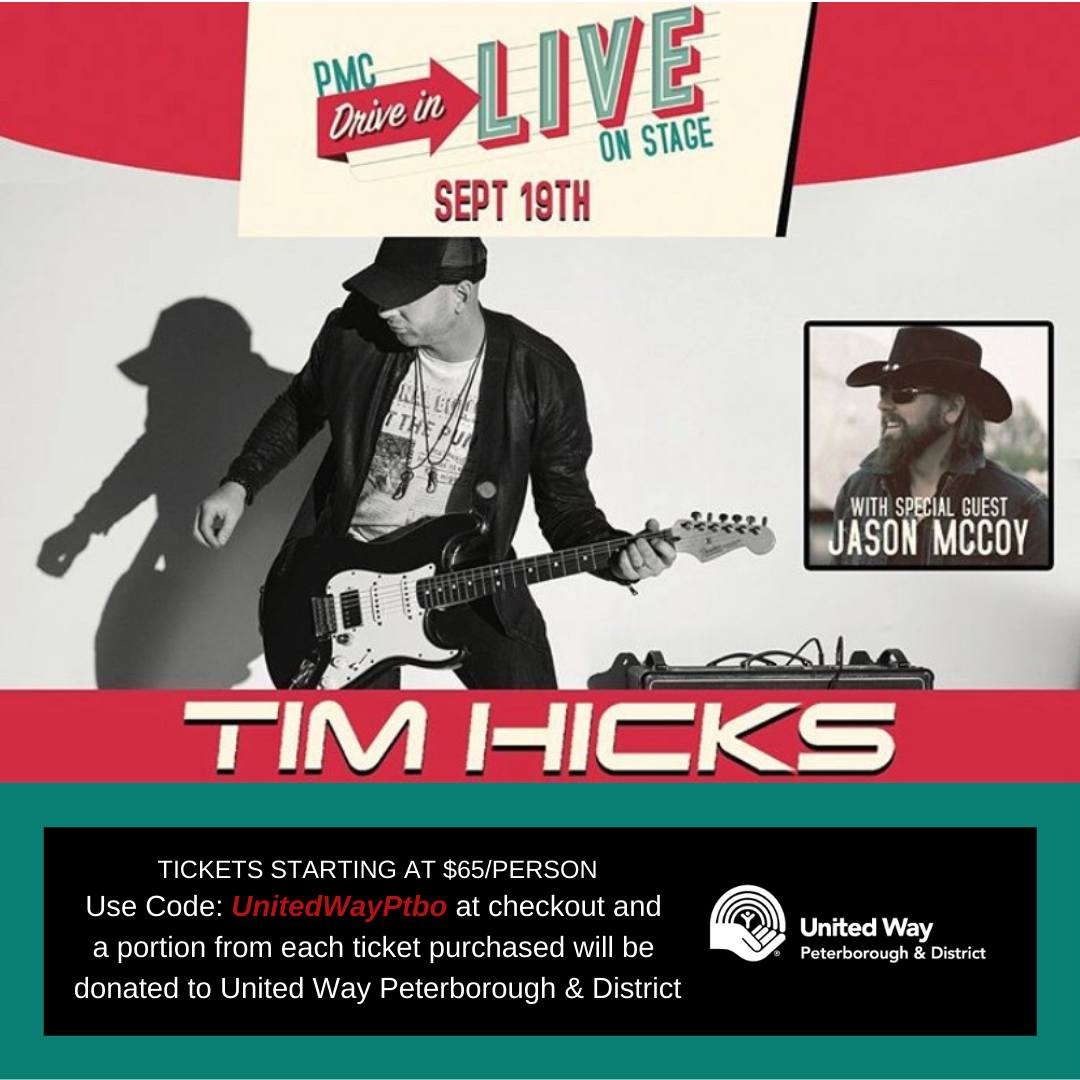 "This is truly a very exciting opportunity for us to be able to offer the great people of this community such an incredible line up of talent during what has been such a difficult year for so many. These concerts will be a fun, safe and responsible way for the people of Peterborough to get out and enjoy some great live music from the safety and comfort of their own vehicle, while still physically distancing from other concertgoers," says Jeremy Giles, PMC Facility Manager.
"Tap your feet, bring your popcorn, and plan to have a rocking great weekend! We are so grateful to the Peterborough Memorial Centre and the City of Peterborough for organizing these events and directing proceeds to support the community. This is a wonderful prelude to our annual United Way Campaign which will launch on Tuesday, September 29th at 10:00am" says Jim Russell, CEO of United Way Peterborough and District.
For more information, please contact;
Jim Russell, CEO
United Way Peterborough & District
T: 705-742-8839