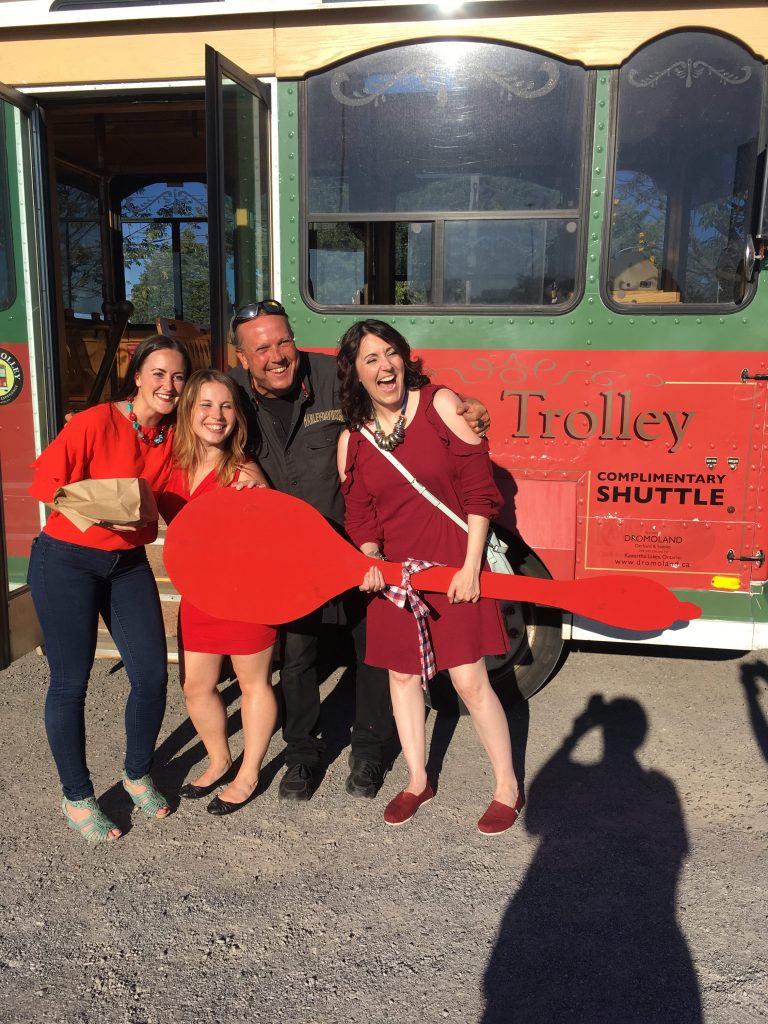 On Wednesday July 18th, hundreds of people dined out at 32 local restaurants who donated 25% of their daily sales to support the work of United Way Peterborough & District.  Today we are thrilled to announce another record breaking success both in donations and community engagement.
The event continues to show growth, raising just over $16,000, a 6% increase from last year bringing the grand total to over $75,000 raised since the event was launched in 2013. There were some participating locations this year and the event featured a special charity ride from Full Tilt Cycle where riders were encouraged to Ride then Dine.
Paint the Town Red continues to raise more than donations, it also raises community connection. The true flavour of the event was exemplified by restaurants supporting each other, businesses encouraging folks to head out to eat, workplaces coordinating team meals and friendly rivalries to see who could eat at more restaurants, all to support everyone in our community.  The infamous Red Spoon toured the vicinity throughout the day and folks were clamouring for a spoon spotting, or even better, a spoon selfie!  You could watch the day unfold through your computer or cell phone as the community of Peterborough shared their photos and experiences on various social media platforms. The hashtag #PaintPtboRed was trending on Twitter across Canada all day demonstrating the powerful force of our community at large.
"Our restaurants and food are second to none in the Province. And once again we thank the entrepreneurial spirit of our restauranteurs and their commitment to building local economy while at the same time giving back to community." Beamed Megan Murphy, 2018 Campaign Chair.
We'd like to offer our overwhelming gratitude to the participating restaurants, the people who came out and dined and to the many volunteers who made this event possible. In particular to Downtown Divas Laura Crann (Ashburnham Realty) and Ashley Vititoe who put their heart, soul and stomach into the event.
The dollars raised in this event will be going right back into this community to support our partner agencies, innovation projects and neighbourhood grants in their work building a strong and healthy Peterborough & District for everyone.
Thank-you to the 2018 Participating Restaurants
| | | | |
| --- | --- | --- | --- |
| Amandala's | Dodrio Bubble Tea and Anime Cafe | Kawartha Dairy (all scooped sales – High Street location) | Riley's |
| Amuse Coffee Co. | Fresh Dreams | La Hacienda | Sam's Place |
| Ashburnham Ale House | Freshii | La Mesita | Silver Bean Cafe |
| B.E. Catering | Gerti's | Oasis Mediterranean Grill –  #O.M.G | St. Veronus |
| Black Honey | Hobart's Steak House | The Night Kitchen | Sunset Grill |
| Brio Gusto | Hunter County Cuisine | Pita Pit – George Street | Tiny Greens |
| Chick-a-biddy Acres (Wednesday Market) | Island Cream | Providence | Tre Ristorante |
| Cora Breakfast & Lunch | Jeff Purvey's (Rubidge Street) | Rare | Turnbull Cafe |
For more information, please contact;
Jim Russell, CEO
United Way Peterborough & District
T: 705-742-8839
E: jrussell@uwpeterborough.ca