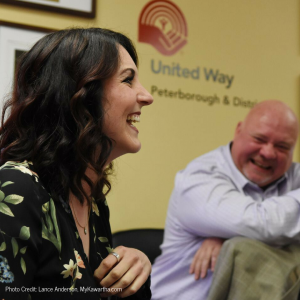 Jim Russell, CEO United Way Peterborough & District, announced that Megan Murphy, local radio personality and film maker, will be leading United Way's 77th community campaign in the fall of 2018.  Russell enthusiastically stated that "Megan's deep Peterborough roots, artistic spirit, and community leadership makes her a natural choice to lead our campaign."
Megan was born and raised in Peterborough.  Upon graduation from St. Peter's High School, she was awarded the TD Canada Trust scholarship for Outstanding Community Leadership. She went on to study at York University where she obtained a Bachelor of Fine Arts in Theatre Performance. She is also a graduate of the Documentary Filmmaking Institute at Seneca College and the Second City Conservatory Program.
She is currently a morning show co-host on two Peterborough/Northumberland radio station, 93.3 myFM and 107.9 Classic Rock and an afternoon drive co-host on Oldies 96.7.
As an actress she has appeared on-screen in various roles from Flashpoint to Tim Hortons commercials. Locally she has appeared in a number of theatre productions including New Stages recent interpretation of Angels in America and Between The Sheets alongside Linda Kash.
She has directed a number of short films, including Shelf Life and Towns End, (about the closing of PG Towns and Sons General Store in Douro), both of which were programmed at ReFrame Film Festival. Shelf Life won an audience choice award. Her feature film, Murphy's Law, which chronicled her journey across Ireland on her deceased father's bicycle, won best documentary at the Fingal Film Festival in Ireland in 2016.
She is public speaker, emcee and a published writer with her most recent story appearing in the May 2018 edition of Readers Digest. She recently collaborated with local musician Melissa Payne, to create a music video for the song Strong Heart. The video generated funds for Sick Kids Foundation, raising more than $22,000. She sits on the board for New Stages Theatre Company, and has volunteered with Trent Valley Archives, the Easter Seals Telethon, and Safe Haven for Refugees.
For more information, please contact
Jim Russell, CEO
United Way Peterborough & District
T: 705-742-8839
E: jrussell@uwpeterborough.ca