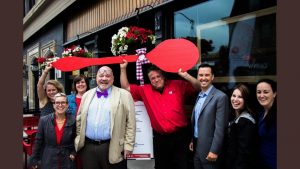 5TH ANNUAL 'PAINT THE TOWN RED' RECORD BREAKING SUCCESS
IN SUPPORT OF UNITED WAY
 PETERBOROUGH, ON – On Wednesday July 19th, hundreds of people dined out at 32 local restaurants who donated 25% of their daily sales to support the work of United Way Peterborough & District.  Today we are stoked to announce a record breaking success both in donations and community engagement.
The event raised just over $15,000 which is a 50% increase from last year coinciding with a 50% increase in participating restaurants. The donations came in from restaurants, individual donations from customers and our newly launched Text to Give program.
But Paint the Town Red raised more than donations, it also raised community connection. The true flavour of the event was exemplified by restaurants supporting each other, businesses encouraging folks to head out to eat, workplaces coordinating team meals and friendly rivalry to see who could eat at more restaurants, all to support everyone in our community.  The infamous Red Spoon toured the vicinity throughout the day and folks were clamouring for a spoon spotting, or even better, a spoon selfie!  You could watch the day unfold through your computer or cell phone as the community of Peterborough shared their photos and experiences on various social media platforms. By using the hashtag #PaintPtboRed so frequently it was trending on Twitter across Canada all day.  For most of the day it was in the top 3 and at one point it hit the #1 trending hashtag in the Country demonstrating the powerful force of our community at large.
"Our community is passionate, resilient, interdependent and the success of this year's Paint the Town Red event is testament. Our restaurants and food are second to none in the Province. And once again we thank the entrepreneurial spirit of our restauranteurs and their commitment to building local economy while at the same time giving back to community." beamed Jim Russell, CEO of United Way Peterborough & District.
We'd like to offer our overwhelming gratitude to the participating restaurants, the people who came out and dined and those who gave via external donations and to the many volunteers who made this event possible, in particular to Campaign Cabinet members Terry Guiel (Downtown Business Improvement Area) Peterborough and Laura Crann (Ashburnham Realty) who worked feverishly in the month leading up to the event.
The dollars raised in this event will be going right back into this community to support our 16 partner agencies in their work building a strong and healthy Peterborough & District for everyone.
Thank you to the 2017 Participating Restaurants
| | | | |
| --- | --- | --- | --- |
| Amandala's | Charlotte Anne's | Kawartha Dairy | Reggie's Hot Grill |
| Ashburnham Ale House | Curry Village | Kettle Drums | Riley's Pub |
| BE Catering | Dodrio | La Hacienda | Sam's Place |
| Black Honey | EC Catering | Marty Moo's | Silk Roots Fusion |
| Brickhouse | Fresh Dreams | Natas Café | Silver Bean |
| Brio Gusto | Gerti's | Pita Pit | Soupcon |
| By the Bridge | Hobarts | The Planet | St. Veronus |
| Caffeina | Island Cream | Rare Gill House | Village of Thai |
-30-
For more information, please contact;
Jim Russell, CEO
United Way Peterborough & District
T: 705-742-8839
E: jrussell@uwpeterborough.ca