We celebrated our 2014 Campaign achievement on Friday, January 30th, 2015.
Gratitude and recognition were the themes as volunteers and workplaces were presented with certificates acknowledging their efforts on the campaign trail this year. But the big news was the 2014 Campaign achievement announcement. The final results were revealed accompanied with a snappy performance by the newly formed musical group, The Three Tunies. United Way CEO, Jim Russell lit the spark of celebration by announcing the 2014 campaign hit 93% of its goal raising $2,209,001 to date.
A $2,383,467 goal was set by this year's Campaign Chair, Brian O'Toole and his Campaign Team. "It has been an honour to chair the 2014 United Way campaign. The City and County of Peterborough is known for its welcoming, generous spirit and is rich in opportunity for many who live here. Yet, we all know the gap between poverty and possibility is widening. We also know that too many of our region's young people—facing barriers to education and a challenging job market—are finding it tough to get ahead," says O'Toole. "That's why, I was so proud to join with our United Way to work with thousands of committed people and organizations to drive real change. I am very proud of what we've been able to accomplish this year. I'm very proud of the incredible team that volunteered to help us achieve these results," added O'Toole.
Despite the celebratory atmosphere, Jim Russell took a moment to reflect with guests. "It's easy to take for granted the ordinary things in our lives. But for many people, an ordinary life is just not possible," says Russell. "Being united in our efforts is critical. We're in this together to bring lasting positive change to help people live with hope, with dignity and a sense of belonging. It is only with your generosity, we have the power to change people's lives for the better right here at home," Russell added.
Russell acknowledged the generosity of donors supporting the people in our community who benefit from United Way funded programs. "United Way is about investing in the future of some of our community's most vulnerable citizens and so every dollar raised is critically important in making a difference to people in need," Russell added.
'Leading The Way' Award Recipients: The top workplace campaigns were recognized with the United Way's "Leading The Way" award being presented to those workplace campaigns whose employee and corporate donations together exceeded $75,000. The Top Workplace Campaigns of 2014 were:
GE Canada: #1 workplace campaign with total dollars raised of more than $155,000
PepsiCo Canada: #2 with total dollars raised of more than $150,000
The City of Peterborough: #3 who raised more than $81,000
Media Coverage
United Way raises $2,209,001, Peterborough Examiner – January 30, 2015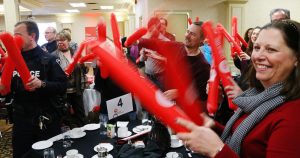 Campaign volunteers happy and grateful about reaching 93 per cent of the target, Peterborough This Week – January 30, 2015
United Way Set To Announce Campaign Fundraising Total, Extra Peterborough – January 30, 2015
More photos from the Campaign Celebration can be found on our Facebook page: Facebook.com/UnitedWayPtbo