Love Local
When you give to the United Way, your gift will be invested where it has the greatest local impact
  Read our UWP 2022-23 Community Impact Report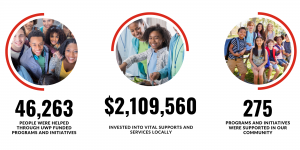 Mission Statement
Empower everyone to improve lives and build strong communities.
Vision Statement
Everyone in every community has the opportunity to reach their full potential.
United Way Peterborough & District Values
• Demonstrate trust, integrity, respect, inclusivity and transparency
• Energize and inspire volunteerism and volunteer leadership
• Endorse innovation, partnerships and collective action
• Provide non-partisan leadership
• Embrace diversity

Land Acknowledgement
Before this area was named Peterborough by settlers, this Anishinaabeg territory was known as Nogojiwanong which is Ojibwa for "place at the end of the rapids". Nearly 100 years ago, settlers of Canada and seven Michi Saagiig (Mississauga) and Chippewa First Nations signed agreements that became known as the Williams Treaties. Peterborough is located on the Treaty 20 Michi Saagiig (Mississauga) territory, which also includes Curve Lake, Hiawatha, Alderville, Scugog Island, Rama, Beausoleil, and Georgina Island First Nations. We respectfully acknowledge that the Williams Treaties First Nations are the stewards and caretakers of these lands and waters in perpetuity, and that they continue to maintain this responsibility to ensure their health and integrity for generations to come.
The Williams Treaties agreements were intended to be the foundation upon which sovereign peoples would build a common relationship but have led to long-standing disputes on crucial issues such as compensation, settlement, and harvesting. We acknowledge the role of colonialism and responsibilities of settlers in these ongoing conflicts that have resulted in intergenerational traumas and inequities for Indigenous Peoples.
One inequity that Indigenous People face as a consequence of colonialism is housing instability. There is a growing overrepresentation of Indigenous People experiencing homelessness in the City of Peterborough, with about 27% of this year's Point in Time count respondents identifying as Indigenous. May we take a moment to reflect on the fact that the percentage of Indigenous people that are currently experiencing homelessness in Peterborough is almost 10 times higher than the percentage of Indigenous People in Peterborough's total population. As we take action to support people experiencing poverty in Peterborough, may we learn from local Indigenous people, incorporate cultural sensitivity, and understand housing stability as an act of reconciliation.
Were helped through United Way
Peterborough & District funded programs and initiatives last year

45,854
Individuals were helped by our programs and initiatives in meeting their basic needs and moving out of poverty.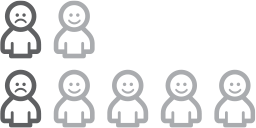 12,754
Children and youth accessed programs to reach their highest potential.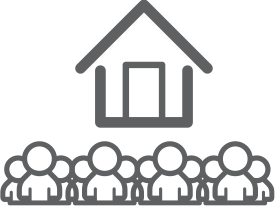 4,083
People were helped by programs and initiatives supporting personal wellbeing and strengthening neighbourhoods.