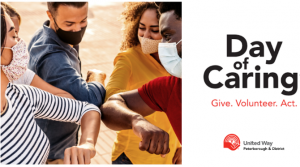 This year, it's all about school supplies!
With many agencies still unable to offer in-person volunteer opportunities, we decided to focus this Day of Caring on our most pressing priority…making certain we can deliver the educational tools requested by our local school communities for students who need a hand up this fall. If you are looking for an initiative to support with your work team or, a way your family can help local students, why not create a mini-fundraiser for Backpacks for Success?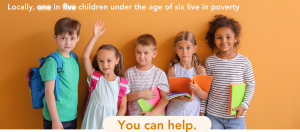 Some of your friends and neighbours make impossible choices every day…choosing between paying rent, paying bills or buying groceries. September brings an additional financial stress for these families – back to school shopping for all of the basic tools that will contribute to their child's success.
Our vision is that everyone in every community has the opportunity to reach their full potential and United Way Peterborough's Backpacks for Success program serves to ensure that all students have the educational tools they need. This year we need your help. With the 2022 order forms now complete, requests from our local schools in both Kawartha Pine Ridge and Peterborough Victoria Northumberland and Clarington Catholic District School Boards have increased by 74% over last year.
Ways you can help to support our Backpacks for Success initiative for Day of Caring
What teacher gift shows your appreciation better than one that is made in their name, that helps to provide one of their own students with the tools they need to experience educational success? When you make a gift on the Backpacks for Success giving page, you are able to customize a printable card letting your favourite educator know that a gift has been made in their name!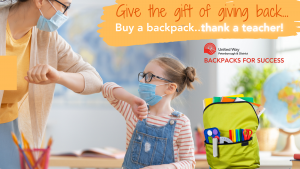 As we begin to focus on recovery and rebuilding after the global pandemic, it has become increasingly difficult to ignore the fact that the events of the past two years have disproportionally affected our economically vulnerable populations. You can help to build an equitable recovery and foster a sense of inclusivity for these students through your support of Backpacks for Success.
Are you looking for a way to give back with your office team?  Hold a mini-fundraiser, trivia night or coffee shop to have a little fun while building a strong and inclusive community for our local students.  As a family or individual, why not have a games night,  lemonade stand or garage sale to raise funds and make sure to tell us your ideas so that we can share your Day of Caring stories!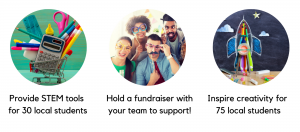 The increased need in our community translates to a $15,000 cost to run the program for 2022
To help achieve the level of community investment required, we have added a sponsorship option for those who would like to have a broader impact this fall.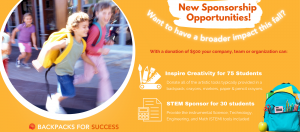 Brant Basics – Give at the till or add a donation to your online order
In 2021, Brant Basics, a longtime supporter of United Way Peterborough & District through their annual workplace campaign, reached out to offer to partner in a more significant way through the creation of new initiative to keep support ongoing.
The team at Brant Office Supply, in addition to sourcing quality, well-priced items for the program and offering a rebate have also committed to donating several items that will be included in each student backpack. Brant customers can also choose to support the Backpack for Success Program by adding a donation when making a purchase in-store or, adding a donation to their online orders by adding item 80003-00 and filling in your desired gift amount.
To learn more, CLICK HERE or donate directly to our Backpacks for Success Giving Page HERE