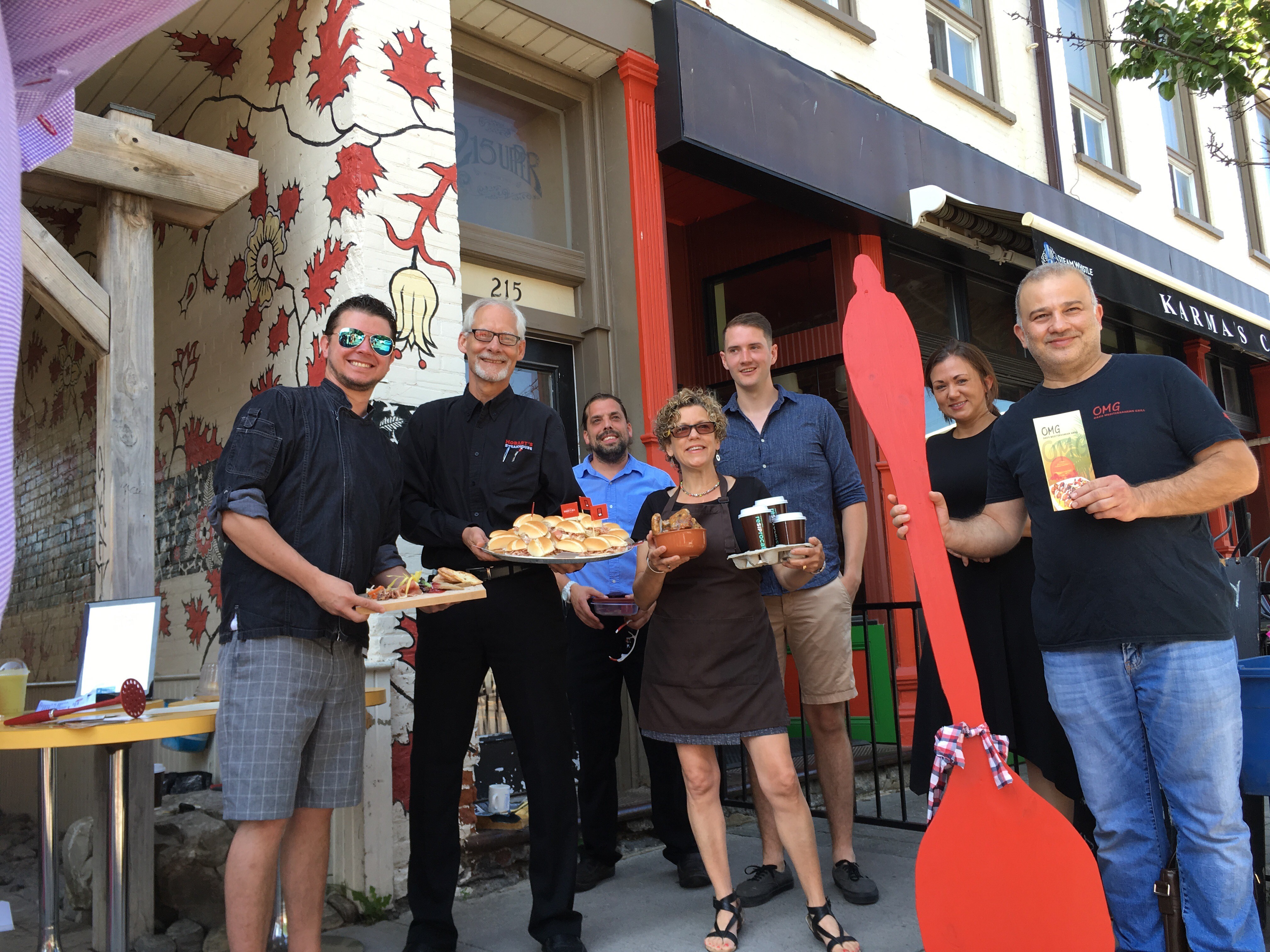 Today in the Hunter Street alley, Jim Russell CEO of United Way of Peterborough & District was joined by Campaign Chair, Megan Murphy, Paint the Town Red 2018 Co-Chairs Laura Crann (Ashburnham Realty) and Ashley Vititoe (Gauvreau and Assoicates) along with a variety of participating restaurants to announce the launch of the 6th annual Paint the Town Red event.
On Wednesday July 18th, 32 participating restaurants will be donating 25% of their daily sales to support the work of United Way to build a better future for everyone.
 Says Murphy, "The energy around this event and excitement about helping each other is what I love about this community. I encourage you to sit down with friends and family on July 18th, share a meal together and help to build an even stronger and deeper community connection."
 Event Co-Chairs Crann and Vititoe expressed that supporting this event is a great start to their first year volunteering for the United Way Campaign. Laura added, "It's been a blast to take pictures with the 'spoon' while talking to folks about the work of United Way." Special thanks to past Campaign Cabinet volunteer and last year's event co-chair, Terry Guiel (DBIA) who spent his own time carving and painting this Paint the Town Red symbol. Laura and Ashley encourage folks that while dining on July 18th, to share their experience on social media using the hashtag #PaintPtboRed."
Last year's event raised over $15,000.00 bringing the total to over $60,000 since 2013.
Thanks to our Confirmed Participants for 2018 #PaintPtboRed

Amandala's
Amuse Coffee Co.
Ashburnham Ale House
B.E. Catering
Black Honey
Brio Gusto
Chick-a-biddy Acres (Wednesday Market)
Cora Breakfast & Lunch
Dodrio Bubble Tea and Anime Cafe
Fresh Dreams
Freshii
Gerti's
Hobart's Steak House
Hunter County Cuisine
Island Cream
Jeff Purvey's (Rubidge Street)
Kawartha Dairy (all scooped sales (cones/milkshakes/ice cream sandwiches etc. – High Street location)
La Hacienda
La Mesita
Oasis Mediterranean Grill –  #O.M.G
The Night Kitchen
Pita Pit – George Street
Providence
Publican House (11am-4pm)
Riley's
Sam's Place
Silver Bean Cafe
St. Veronus
Sunset Grill
Tiny Greens
Tre Ristorante
Turnbull Cafe
Check out pictures of each restaurant with the Spoon!