We are pleased to share United Way Peterborough & District's  Annual Report & Audited Financial Statements.
Are you considering a teacher's gift and stuck on how to say thank you for a great school year?
Consider giving your child's teacher the gift of giving back.
By making a $15 donation, you will purchase a backpack full of school supplies in support of United Way Peterborough's Back Pack for Kids program.
The teacher will be given a certificate in their name and in September, this backpack will be given to a student in need to ensure they are ready to learn with a backpack full of school supplies.
Sometimes the best way to show gratitude to someone is to pay it forward.
For more information or to purchase a Backpack, call United Way Peterborough at 705-742-8839 x32 and ask for Stephanie.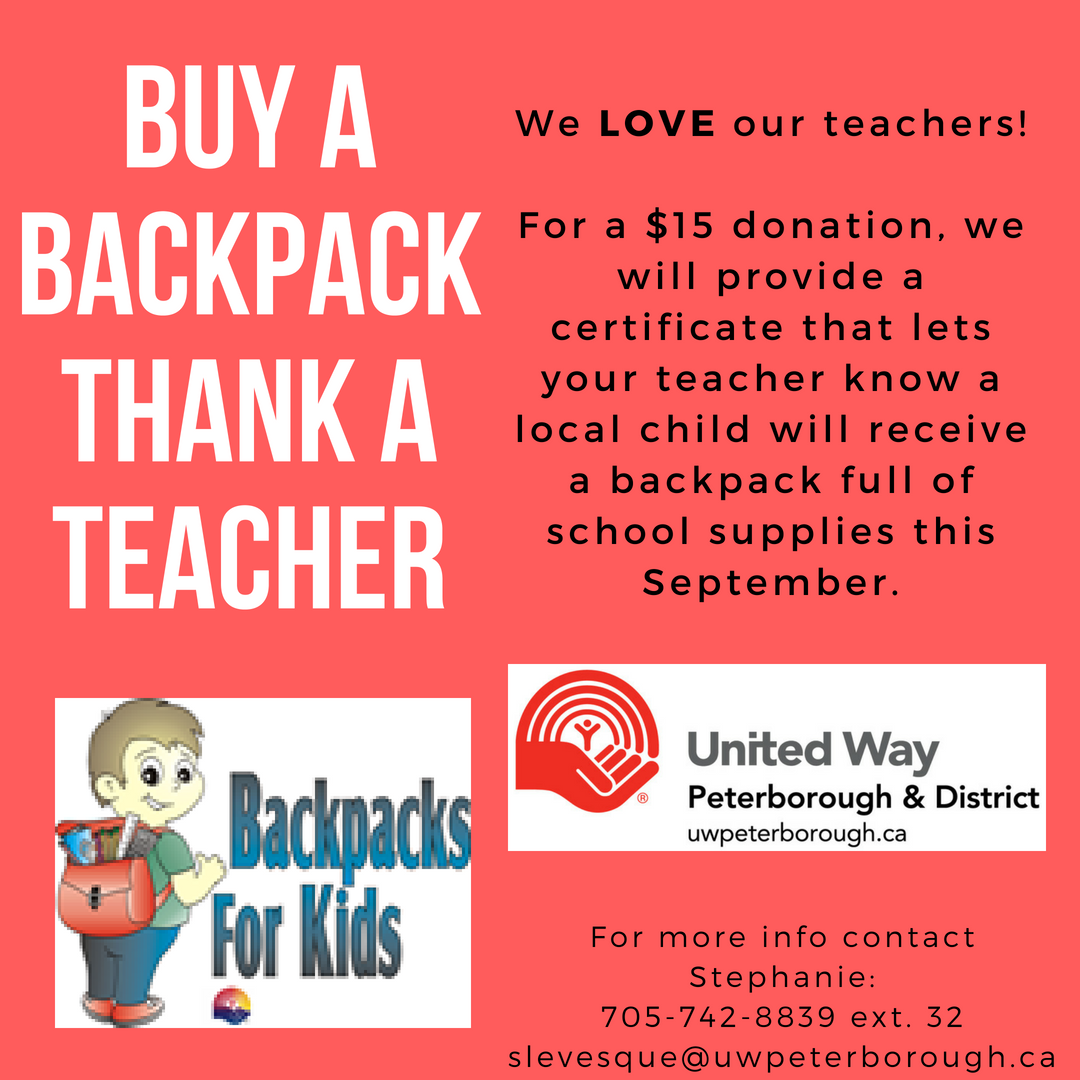 Paint the Town Red is back for its 6th year on Wednesday July 18th, 2018
Since 2013, over $60,000 has been generously donated by local restaurants, cafes and pubs to United Way Peterborough & District and invested right back into our community.
Local businesses who participate in 2018 Paint the Town Red event will generously donate 25% of their net sales from Wednesday July 18th, 2018,
Thanks to our Confirmed Participants for 2018 #PaintPtboRed

Amandala's
Amuse Coffee Co.
Ashburnham Ale House
B.E. Catering
Black Honey
Brio Gusto
Chick-a-biddy Acres (Wednesday Market)
Cora Breakfast & Lunch
Dodrio Bubble Tea and Anime Cafe
Fresh Dreams
Freshii
Gerti's
Hobart's Steak House
Hunter County Cuisine
Island Cream
Jeff Purvey's (Rubidge Street)
Kawartha Dairy (all scooped sales (cones/milkshakes/ice cream sandwiches etc. – High Street location)
La Hacienda
La Mesita
Oasis Mediterranean Grill –  #O.M.G
The Night Kitchen
Pita Pit – George Street
Providence
Rare
Riley's
Sam's Place
Silver Bean Cafe
St. Veronus
Sunset Grill
Tiny Greens
Tre Ristorante
Turnbull Cafe